Assalamualaikum..
Hye semua..
Layan filem China pula kita.. FIlem yang menarik.. Mengenai seorang saintis yang mereka satu robot untuk memuaskan nafsu beliau.. Malangnya bila robot tu mula upgrade, robot tu membunuh untuk dapatkan kulit manusia.. Malah robot tu mula mencari makna cinta dan keperluan cinta kepada manusia.. Robot tu mula menyamar menjadi manusia yang diculiknya dan hidup bersama kekasih manusia tersebut.. Namun kepuasan cinta tu tak semudah yang disangka bila menjalinkan hubungan..
Manusia sendiri selalu berubah-ubah kehendaknya dan keperluannya.. Robot yang hanya mengikut apa yang tertulis bukanlah pasangan yang sesuai.. Cerita yang jelas menunjukkan sifat manusia..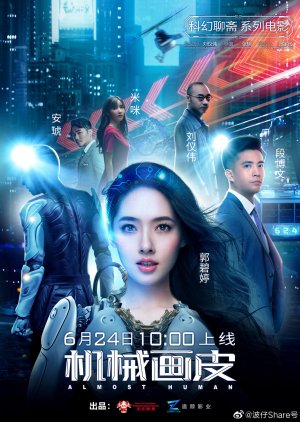 Movie: Almost Human
Also Known As: Mechanically Painted Skin, Painted Skin, Liao Zhai, Jīxiè huàpí
Genres: Action, Suspense, Romance, Crime, Sci-Fi
Country: China
Release Date: Jun 24, 2020
Duration: 1 hr. 31 min.
Content Rating: 18+ Restricted (violence & profanity)
Science Madman (An Hu) has privately developed a highly developed humanoid robot with sympathetic nerves to satisfy his own desires. Unexpectedly, the robot developed its autonomous consciousness. It exchanged the skin of the beautiful woman Su Xin (Hayden Kuo) through "Black Technology" and lurked beside Su Xin's boyfriend Wang Sheng (Duan Bowen). On the other side, the bizarre serial murder case has attracted the attention of police officer Li Dongbin (played by Liu Yiwei), and the danger is quietly brewing.
"Mechanically Painted Skin" is a science fiction love film directed by Zhang Nan, starring Guo Biting and Duan Bowen, starring Liu Yiwei, Mimi, Ma Yujie, Nie Mei, and starring An Hu.
The film is based on the chapter of "Painted Skin" in the classic Chinese classic "Liao Zhai". It describes a scientific madman who developed a humanoid AI with sympathetic nerves. When AI germinates its autonomous consciousness, it hunts the beautiful women for skin removal. The story that took their place and lurked around their boyfriend. (Source: Baidu)