Assalamaualaikum..
Hye semua..

Tertengok drama ini tanpa sengaja.. Best pula melayannya.. Kisah makhluk asing yang tersadai dibumi sebab menolong seorang lelaki yang kemalangan.. Sekurang-kurangnya dalam ini perempuan yang bawa watak alien tu jenis tak lembik.. Melawan dan juga ada pendirian.. memang best tengok drama ini.. Boleh bergelak ketawa dan santai je.. heronya pula jenis muka ketat je.. Sekali senyum memang sweet habis lah..

Nasib baik ending dia sweet.. Kalau tak memang stress.. hahaha..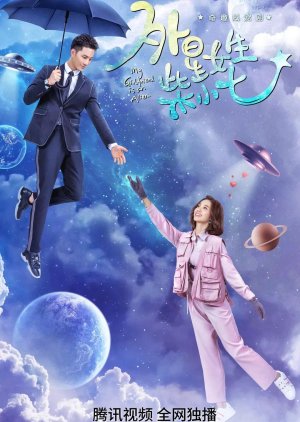 Drama: My Girlfriend is an Alien
Country: China
Episodes: 28
Aired: Aug 19, 2019 - Sep 24, 2019
Aired On: Monday, Tuesday
Original Network: Tencent Video
Duration: 45 min.
Also Known As: Wai Xing Nu Sheng Chai Xiao Qi , Alien Girl, Chai Xiao Qi
Director: Deng Ke
Genres: Comedy, Romance, Fantasy
An intergalactic romance follows an alien girl stuck on planet Earth. She crosses paths with an overbearing CEO who forgets the opposite sex whenever it rains.
Hailing from planet Cape Town, Chai Xiao Qi finds herself held up on Earth after accidentally losing a homing device. She is not just an ordinary alien, but a coquettish master at chasing guys. One she inhales men's hormones, it becomes a drug that releases her deepest inhibitions and puts her in the state of mind of a total fangirl. In order to survive among the humans, Chai Xiao Qi relies on her supernatural abilities to get out of trouble time and again.
Meanwhile, Fang Leng is an overbearing CEO who suffers from heterosexual amnesia whenever it rains which causes him to forget the women around him on rainy days. These unusual circumstances between Chai Xiao Qi and Fang Leng ultimately lead to a romance that is full of laughs.
(Source: ChineseDrama.info)