Assalamualaikum..
Hye semua..
Drama ini Sha tonton dari Mac 2020 lagi.. Bulan ini baru berjaya habiskan.. Hahaha.. Geram nengok dramanya tapi sebab dah tengok, gigihkan diri jugalah untuk habiskan.. Sha tengok online je dekat Youtube.. Nak tengok? Boleh klik
SINI
..
Kisah seorang lelaki yang mengembara mencari ayah dan ibunya kemudian berjaya menyelamatkan seorang perempuan dari dibunuh syaitan.. Kemudiannya beliau menyertai satu pertandingan demi menjadi Taoism Seekers.. Yang tak bestnya bila episod last baru keluar Taoism Seekersnya.. Lepas tu sikit je tunjuk aksinya.. Halah.. Geram je.. Tapi okaylah untuk fun and aksi.. Persahabatan pun menarik..
Yang pasti drama ini berjaya menonjolkan yang manusia lagi kejam dari raksasa sebenarnya.. Sikap tamak, dengki dan bangga diri mampu membunuh manusia untuk menjadi kejam dan tak berperikemanusiaan..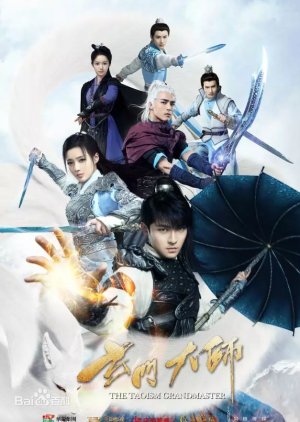 Also Known As: Xuan men dashi, The Taoist Grandmaster, Mysterious Gate Grandmaster
Director: Wong Chun Man
Screenwriter: Chan Sap Sam
Genres: Historical, Wuxia, Fantasy
Tags: Xianxia
Country: China
Type: Drama
Episodes: 46
Aired: May 21, 2018 - Jul 16, 2018
Aired On: Monday, Tuesday, Wednesday
Duration: 46 min.
Synopsis: 3000 years ago, Yang Jian perdicted there would be a disaster for the human beings and only a chosen taoist could use the divine armor to save the world. During the East Han Dynasty, the wolf demons expanded their domains to human habitats. The Taoist Alliance tried to find the chosen taoist in order to defeat the wolf demons. Zhang Ling, with his good friend Tie Lang, did quite well in the trial. He also won the heart of Feifei, the daughter of the leader of the Taoist Alliance.
Kun Lun was jealous of Zhang Liang, so he hurt him and grabbed the divine armor. Tielang found himself as the leader of wolf demons, Iron Wolf. Zhang Liang persuaded him not to hurt human beings and to find another habitat. Tie Lang agreed. Kun Lun found he couldn't use the divine armor because he was not the chosen one. He wanted to destroy all the wolf demons but his plan failed. Zhang Liang used the armor to activate the portal so all wolf demons can move to another world.